Events

Living Writers: "After Ursula" with Karen Joy Fowler, Molly Gloss, Nisi Shawl, and Kim Stanley Robinson
November 14, 2019 @ 7:10 pm

-

8:30 pm

| Humanities Lecture Hall
Share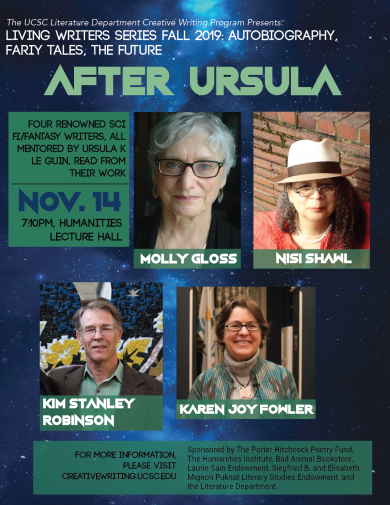 After Ursula: Four renowned Sci Fi/Fantasy Writers all mentored by Ursula K Le Guin read from their work.
Molly Gloss is the author of several novels including The Jump-Off Creek, The Dazzle of Day, Wild Life, The Hearts of Horses and Falling From Horses, as well as the story collection Unforeseen. She writes both realistic fiction and science fiction, and her novels have received, among other honors, a PEN West Fiction Prize, an Oregon Book Award, two Pacific Northwest Booksellers Awards, the James Tiptree, Jr. Award, and a Whiting Writers Award.
Karen Joy Fowler is the author of six novels, including Sarah Canary and The Jane Austen Book Club, and three short story collections, including What I Didn't See. Her most recent novel We Are All Completely Beside Ourselves, was published by Putnam in May 2013 and won the Pen Faulkner award that year. She currently lives in Santa Cruz.
Nisi Shawl wrote the 2016 Nebula finalist Everfair and the 2008 Tiptree Award-winning collection Filter House. In 2005 she co-wrote Writing the Other: A Practical Approach, a standard text on inclusive representation in the imaginative genres. Her stories have appeared in Strange Horizons, Asimov's SF Magazine, and many other publications. She edited the anthology New Suns: Original Speculative Fiction by People of Color; and co-edited Stories for Chip: A Tribute to Samuel R. Delany; Strange Matings: Science Fiction, Feminism, African American Voices, and Octavia E. Butler. Shawl is a Carl Brandon Society founder and a Clarion West board member. She lives in Seattle near an enticingly large lake.
Kim Stanley Robinson is an American science fiction writer. He is the author of more than twenty books, including the international bestselling Mars trilogy, and more recently Red Moon, New York 2140, Aurora, Shaman, Green Earth, and 2312. He was sent to the Antarctic by the U.S. National Science Foundation's Antarctic Artists and Writers' Program in 1995, and returned in their Antarctic media program in 2016. In 2008 he was named a "Hero of the Environment" by Time magazine. He works with the Sierra Nevada Research Institute, the Clarion Writers' Workshop, and UC San Diego's Arthur C. Clarke Center for Human Imagination. His work has been translated into 25 languages, and won a dozen awards in five countries, including the Hugo, Nebula, Locus, and World Fantasy awards. In 2016 asteroid 72432 was named "Kimrobinson."
---
This Living Writers event is co-sponsored by The Humanities Institute.
Please join us as we kick off the 20th anniversary of The Humanities Institute at our Open House Celebration on November 14th from 4-6pm. Raise a glass, meet our fellows, and connect with your community. In many ways, The Humanities Institute is a demonstration of where the Humanities is headed and we are stronger when we do this work together.