Events

Mohamed Hamed – Arabic Language Resources in the UC System and Beyond
December 9 @ 12:15 pm

-

1:30 pm

| Humanities 2, Room 359
Share
The Center for the Middle East and North Africa (CMNEA) is hosting a talk by Mohamed Hamed geared to help students and faculty in the UC system advance their Arabic language research and locate sources. He will be offering an overview of online resources, and covering issues such as interlibrary loan as well as transliteration. There will also be time for you to pose any questions that you might have.
The event will be hybrid. There will also be a brunch with Mohamed prior to the event that is open to graduate students and faculty. Please RSVP to muhdavis@ucsc.edu if you would like to join.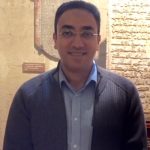 Mohamed Hamed joined the University of California, Berkeley Library in 2017 as the new Middle Eastern & Near Eastern Studies Librarian. Mohamed joins the Library from the University of North Carolina at Chapel Hill where, for the last seven years, he has been the Middle Eastern & African Studies Librarian. He has earned a BA, MA, and PhD in Library and Information Science from Cairo University. Previous professional affiliations include The American University in Cairo, Santa Monica College Library, and Arabic Language instruction at UNC Chapel Hill. Professionally Mohamed has participated in several key organizations including the Middle East Librarians Association, the Africana Librarians Council, and the Arab Federation for Libraries and Information.
This event will be held on November 18th from 12:00pm-1:30pm and is presented by the Center for Middle East and North Africa.