Events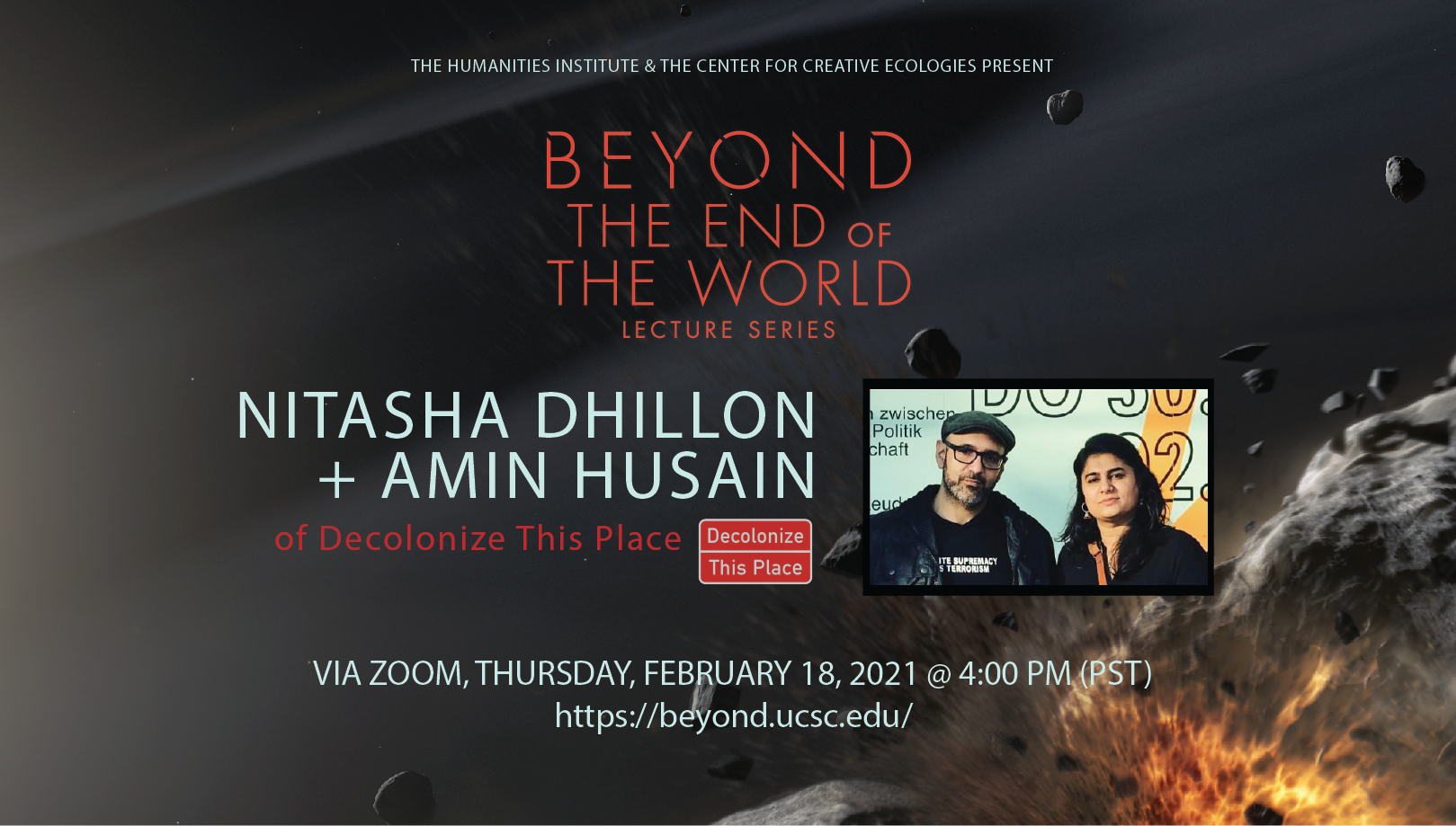 Nitasha Dhillon and Amin Husain, of MTL / Decolonize This Place: Beyond the End of the World Sawyer Seminar Series
February 18, 2021 @ 4:00 pm

-

6:00 pm

| Virtual Event
Share
The Humanities Institute and the Center for Creative Ecologies present Beyond the End of the World Lecture Series.

Natasha Dhillon and Amin Husain, are MTL, a collaboration that joins research, aesthetics, organizing and action in practice. Nitasha Dhillon and Amin Husain are co-founders of Anemones and Tidal: Occupy Theory, Occupy Strategy, both movement-generated theory magazines; Global Ultra Luxury Faction, known as the direct-action wing of Gulf Labor Coalition; Direct Action Front for Palestine; and, most recently, Decolonize This Place, an action-oriented movement and decolonial formation in New York City and beyond. MTL has published in Alternet, Creative Time Reports, eflux, Hyperallergic, Jadaliyya, and October Magazine. Currently they are directing and producing Unsettling, an experimental documentary film about land, life and liberation in occupied Palestine.
Beyond the End of the World comprises a year-long research and exhibition project and public lecture series, directed by T. J. Demos of UCSC's Center for Creative Ecologies. The project brings leading international thinkers and cultural practitioners to UC Santa Cruz to discuss what lies beyond dystopian catastrophism, and asks how we can cultivate radical futures of social justice and ecological flourishing. Funded by the Andrew W. Mellon Foundation John E. Sawyer Seminar on the Comparative Study of Culture and administered by The Humanities Institute. For more information visit BEYOND.UCSC.EDU.