Events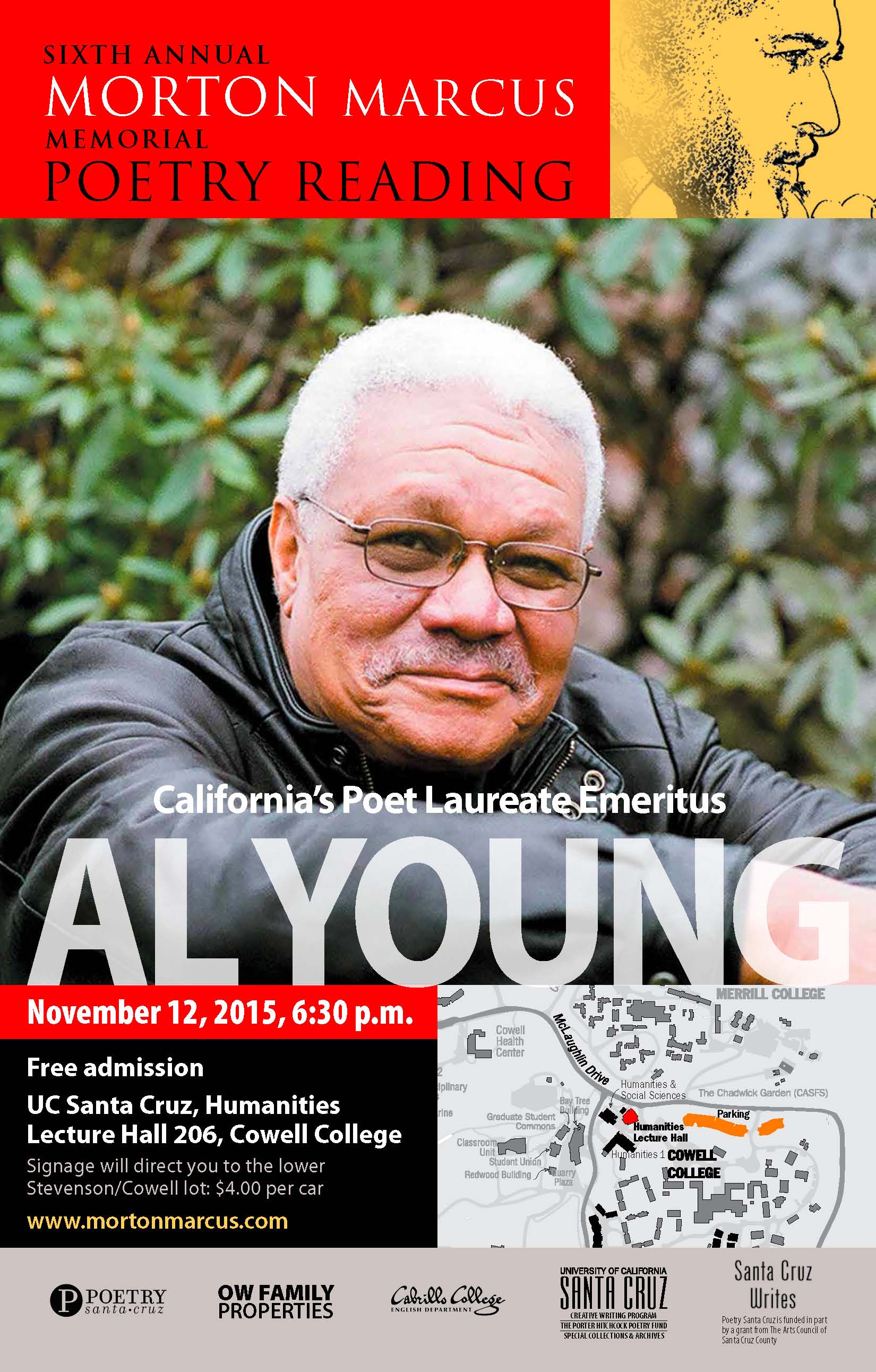 Morton Marcus Memorial Poetry Reading with California's Poet Laureate Emeritus Al Young
November 12, 2015 @ 6:30 pm

-

8:00 pm

| Humanities Lecture Hall, Room 206

Free
Share
UC Santa Cruz presents California's Poet Laureate Emeritus Al Young.
Al Young, born in Ocean Springs, Mississippi, is an American poet, novelist, essayist, screenwriter, and professor. In 2005, he was named poet laureate of California by Governor Arnold Schwarzenegger. Widely translated, Al Young's twenty-two books include: poetry—Heaven, The Sound of Dreams Remembered, Coastal Nights and Inland Afternoons, and Something About the Blues; fiction—Who Is Angelina?, Sitting Pretty, and Seduction by Light; essays—Jazz Idiom: The Jazz Photography of Charles L. Robinson; anthologies—Yardbird Lives! (co-edited with Ishmael Reed), African American Literature: A Brief Introduction and Anthology, and The Literature of California (with Jack Hicks, James D. Houston, and Maxine Hong Kingston); musical memoirs—Bodies & Soul, Kinds of Blue, Mingus Mingus: Two Memoirs (with Janet Coleman), and Drowning in the Sea of Love. His work has appeared in literary journals and magazines including Paris Review, Ploughshares, Essence, The New York Times, Chicago Review, Seattle Review, Brilliant Corners: A Journal of Jazz & Literature, Chelsea, Rolling Stone, Gathering of the Tribes, and in anthologies including the Norton Anthology of African American Literature, and the Oxford Anthology of African American Literature. His honors include NEA, Fulbright, and Guggenheim Fellowships; the PEN/Library of Congress Award for Short Fiction; the PEN/USA Award for Nonfiction; two Pushcart Prizes; two American Book Awards; the Richard Wright Award for Literary Excellence; and, most recently, the 2011 Thomas Wolfe Award.
On the first Friday of each month, he reads a freshly-composed poem during The California Report,broadcast at San Francisco's NPR-affiliate KQED. A teaching veteran (Stanford, UC Santa Cruz, University of Michigan, Colorado College, University of Washington, Rice, University of Arkansas, Davidson College), he currently holds seminars in imaginative writing and creativity at California College of the Arts, San Francisco. Love Offline, a new poem collection, awaits publication. In the 1970s and 80s, Young wrote screenplays for Sidney Poitier, Bill Cosby, and Richard Pryor. Learn more about this versatile Berkeley-based author at www.AlYoung.org
---
In conjunction with the Living Writers Series Fall 2015.
Creative Work & Critical Play
Thursdays, 6:00-7:45 PM
Humanities Lecture Hall, 206
Creative Work & Critical Play features contemporary writers and artists who expose and explore the space between critical discourse and the creative imagination. Through the work of making art and the play in ideation, they mine issues of race, sexuality, gender, and class through several genres and media, to include poetry, fiction, critical prose, performance, sonic and visual art, memoir, as well as hybrid forms.
October 8: CA Conrad: The Pew Center for Arts & Heritage
October 15: Tonya Foster: California College of the Arts
October 22: John Keene: Rutgers University, Newark
October 29: Ronaldo V. Wilson: University of California, Santa Cruz
November 5: Student Reading
November 12: Al Young: California Poet Laureate, Emeritus
November 19: Juliana Spahr: Mills College & Jasper Bernes: University of California, Berkeley
December 3: Claudia Rankine: University of Southern California