Hello and welcome to Week 3! Catch up on Week 1 and Week 2 if you haven't yet. Last week, we hosted the Deep Read Faculty Salon. It was a heady and engaging discussion of Under a White Sky. Thank you to everyone who participated in person and online. You can find the video of the event here.

This week, we focus on the coastal aspects of Under a White Sky with help from Mike Beck, UCSC Professor of Marine Sciences and Director of the Center for Coastal Climate Resilience that's serving as "an essential interface between science, policy and practice." He'll provide some broader context to Kolbert's discussions of Louisiana's coast, help us understand coral reefs and mangroves as "natural national infrastructure," and share some of the important work happening here at UCSC.
Let's dig in!

Coastal Crux
Kolbert opens Under a White Sky with a literary treatment of rivers, discussing the ways in which rivers make "good metaphors": they can "signify destiny, or coming into knowledge, or coming upon that which one would rather not know"; they can also "stand for time, for change, and for life itself." This rumination leads us to a boat ride with Kolbert down (or up) the Chicago River, which had its course reversed in the beginning of the 20th century in an effort to move sewage and toxic waste away from the city and Lake Michigan. This decision prompted an extended chain of unintended consequences, ultimately leading to an overabundance of Asian carp that threatens whole ecosystems of the region. This carp infestation is mitigated, as we'll see, by electrifying the river.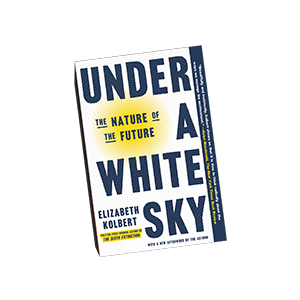 Kolbert starts with the Chicago River because it's a metaphor for all the human interventions she depicts throughout the book. She makes her intent clear a few pages later, saying, "we face a no-analogue predicament. If there's going to be an answer to control, it's going to be more control… [this] new effort [represents] not so much the control of nature as the control of the control of nature. First you reverse a river. Then you electrify it." Each control measure we take creates a new layer of complexity and a new set of unintended consequences.
This logic of compounded human control and interventions continues in the next chapter focused on coastal subsidence on the Louisiana Gulf Coast. Here, we see a similar rationale at play, what Kolbert calls the "logic of the Anthropocene." Louisiana has lost more than two thousand square miles since the 1930s, a land-loss crisis caused by the building of levees, flood walls, and revetments to control the path of the Mississippi River and keep New Orleans and southern Louisiana dry. As Kolbert remarks, "What leaping carp are to Chicagoland, sunken fields are to the parishes around New Orleans–evidence of a man-made natural disaster … this vast system, built to keep southern Louisiana dry, is the very reason the region is disintegrating, coming apart like an old shoe."
UCSC's Mike Beck has spent a lot of time around the Gulf of Mexico and in Louisiana. While the problem that Kolbert highlights about coastal land loss is very real, Beck also identifies some ways in which this point can be equal parts instructive and misleading. "Even an informed reader would think we're losing all of Louisiana's wetlands," says Beck. "Except that's only true for southeast Louisiana. You go one basin over, into the Atchafalaya, and there is a growing marsh, and it's growing against climate change." Beck notes that if you understand the broader dynamics of the region, not just the disastrous pattern of human control that Kolbert outlines, there are glimmers of hope that can allow us to "still have a very coastal way of life. We could still have commerce. We can still have many other things that we want: but we have to let the river run its natural course and form deltas, and do what it does."
The unique needs and protections of coastal life are central to Beck's work at the UCSC Center for Coastal Climate Resilience where he and his team are working on reef and mangrove restoration, showing how both can protect coastlines from flooding and other climate change impacts. The Center supports research and policy that would better define and protect what he calls "natural national infrastructure," specifically around coastal areas. But when it comes to the coastal ecosystem, we don't always recognize reefs and wetlands as vital infrastructure in the same way we recognize light poles or roads as necessary to maintain and rebuild.
According to Beck, we should; both are essential infrastructure. After a major storm event, Beck says, "If telephone poles come down, or the sea walls protecting the city come down—that's national infrastructure and, thus, a national concern. We invest money right away to recover those things." Reefs aren't understood in the same way. As Beck explains, "we show through our modeling that, if you damage reefs all around the coast, then you're increasing flood risk substantially. We ought to be investing right away in recovering that natural national infrastructure. But we don't, and so we're working on language and policies to do that."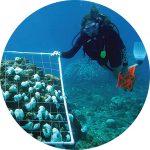 In many ways, Beck's work shares the same pragmatic spirit as the coral reef research of Ruth Gates and Madeleine van Oppen that Kolbert highlights in her book. Attempting to address the widespread decline of reefs and coral bleaching (left, scuba diver surveying bleached coral) due to ocean temperature rise and ocean acidification, their project is a form of "assisted evolution," or an attempt to breed "hardier corals" that might have a better chance of withstanding these effects of climate change. As the late Ruth Gates explains in Kolbert's book, "I'm a realist … I cannot continue to hope that our planet is not going to change radically. It already is changed … A lot of people want to go back to something … They think, if we just stop doing things, maybe the reef will come back to what it was." Gates, and now van Oppen, don't think this is possible. For them, the only alternative to allowing corals to die is for people to help them cope with the changes they have caused in their environments. Beck's work has taken up where Gates left off. His team partners with the University of Miami as part of a Defense Advanced Research Projects Agency (DARPA) project to restore reefs that will protect coastlines from storms and grow corals even as the climate changes.
Beck's role in this fight is to work to expand the ways we see and understand our control of the natural world so that the needs of natural infrastructure can garner the same political and economic attention as a washed-out road or downed powerline. It's important work that can determine, in time, if the Central Coast goes the way of southeast Louisiana, or stays sustainable and habitable. His work can also be seen as a tonic to Kolbert's critique of our control of nature; with a lighter touch, his work suggests, human control is perhaps an advantageous intervention rather than one that repeats or exacerbates the very problem it is built to solve, as is the case in Chicago and Louisiana. Like the coral reef interventions in Under a White Sky, these attempts at control that Beck promotes are necessary to sustain our coastal environment.

Go Deep
Do you see metaphors as helpful to understanding the scale, scope, and logic of the climate problems we face? What are some examples and observations in the book that resonate with you or make you see the world differently? What do you think about Kolbert's depiction of the "assisted evolution" of threatened coral reefs? What are the potential issues with this particular intervention and what do you think about them? Are you aware of other human interventions into nature or climate problems that fit Kolbert's pattern? Are you aware of some that don't fit?
Join the community conversation: We encourage you to think through these questions as you read and share your thoughts in the comments below 👇
Community Conversation
Share your thoughts, reactions, and ideas with the Deep Read Community. Please note, comments are moderated and won't populate immediately. Send any questions to deepread@ucsc.edu.