Events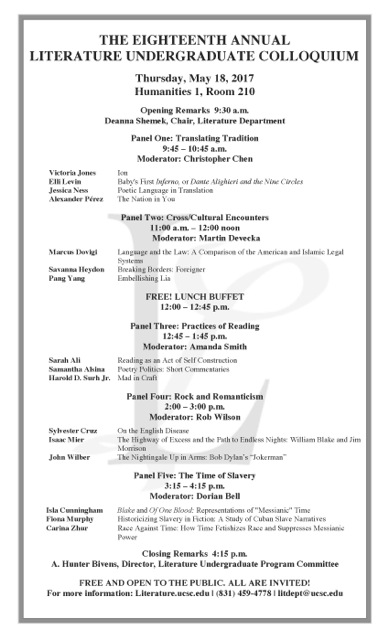 The Eighteenth Annual Literature Undergraduate Colloquium
May 18, 2017 @ 9:00 am

-

4:45 pm

| Stevenson Fireside Lounge
Share
THE EIGHTEENTH ANNUAL LITERATURE UNDERGRADUATE COLLOQUIUM
Opening Remarks 9:30 a.m.
Deanna Shemek, Chair, Literature Department
Panel One: Translating Tradition
9:45 – 10:45 a.m.
Moderator: Christopher Chen
Victoria Jones: Ion
Elli Levin: Baby's First Inferno, or Dante Alighieri and the Nine Circles
Jessica Ness Poetic: Language in Translation
Alexander Pérez: The Nation in You
Panel Two: Cross/Cultural Encounters
11:00 a.m. – 12:00 noon
Moderator: Martin Devecka
Marcus Dovigi Language and the Law: A Comparison of the American and Islamic Legal Systems
Savanna Heydon Breaking Borders: Foreigner
Pang Yang Embellishing Lia
FREE! LUNCH BUFFET
12:00 – 12:45 p.m.
Panel Three: Practices of Reading
12:45 – 1:45 p.m.
Moderator: Amanda Smith
Sarah Ali Reading as an Act of Self Construction
Samantha Alsina Poetry Politics: Short Commentaries
Harold D. Surh Jr. Mad in Craft
Panel Four: Rock and Romanticism
2:00 – 3:00 p.m.
Moderator: Rob Wilson
Sylvester Cruz On the English Disease
Isaac Mier The Highway of Excess and the Path to Endless Nights: William Blake and Jim Morrison
John Wilber The Nightingale Up in Arms: Bob Dylan's "Jokerman"
Panel Five: The Time of Slavery
3:15 – 4:15 p.m.
Moderator: Dorian Bell
Isla Cunningham Blake and Of One Blood: Representations of "Messianic" Time
Fiona Murphy Historicizing Slavery in Fiction: A Study of Cuban Slave Narratives
Carina Zhur Race Against Time: How Time Fetishizes Race and Suppresses Messianic Power
Closing Remarks 4:15 p.m.
A. Hunter Bivens, Director, Literature Undergraduate Program Committee
FREE AND OPEN TO THE PUBLIC. ALL ARE INVITED!