Events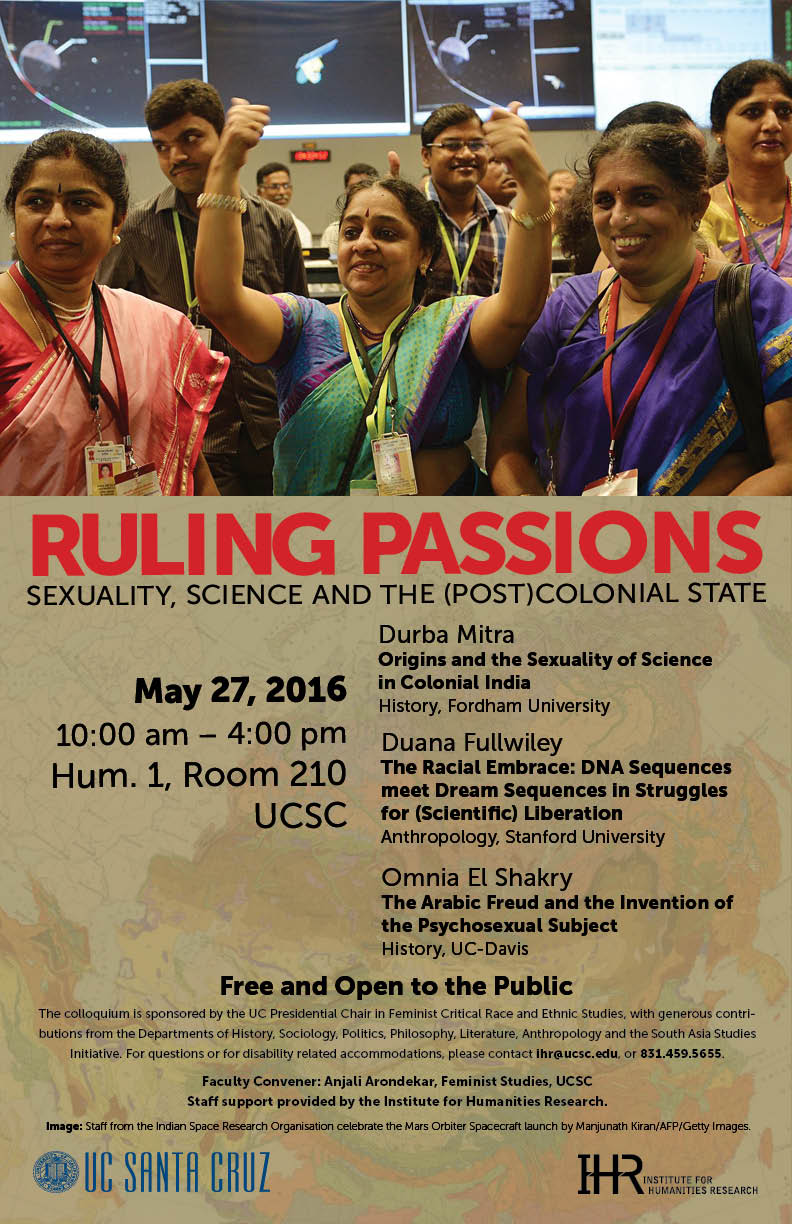 Ruling Passions: Sexuality, Science and the (Post)colonial State
May 27, 2016 @ 10:00 am

-

4:00 pm

| Stevenson Fireside Lounge

Free
Share
The past decade or so has witnessed a rapid rise in scholarship that seeks to seize or transform the language of the "science" for liberatory ends. Such an attachment to the reparative and/or divisive logic of "science" is most evident in minoritized knowledge-formations such as sexuality studies and colonial/postcolonial studies. In the face of contemporary challenges about the limits of scholarship bowing out to the forces of globalization, the colloquium will examine what is at stake for sexuality studies and postcolonial studies to carve out a critical relationship to histories of science?
The types of issues we envisage participants addressing will engage three central questions:
What are the conversations instituted about sexuality in relationship to the colonial and postcolonial state in the global south?
How does sexuality studies's own adherence/attachment to science studies parochialize key assumptions about freedom, rights and the subject?
What are the ways in which modalities of sentiment, affect, emotion entangle with the logic of state discourses and what role does sexuality play within such exchanges?
Schedule:
10:00am–10:15am: Introductory Remarks
Anjali Arondekar, Feminist Studies, UCSC
10:15am-10:30am: Poetic Techne
Ronaldo Wilson, Literature, UCSC
10:30-12:30: The Arabic Freud and the Invention of the Psychosexual Subject
Omnia El Shakry, History, UC Davis
Respondent: Alma Heckman, History, UCSC
12:30-1:30: Break
1:30-3:30: Origins and the Sexuality of Science in Colonial India
Durba Mitra, History, Fordham
Respondent: Megan Moodie, Anthropology, UCSC
Participants:
Durba Mitra, Department of History, Fordham University
Origins and the Sexuality of Science in Colonial India
Durba Mitra is an assistant professor of history at Fordham University. She is currently a Mellon Postdoctoral Fellow at the Penn Humanities Forum at the University of Pennsylvania for the year of "Sex."
Omnia El Shakry, Department of History, UC Davis
The Arabic Freud and the Invention of the Psychosexual Subject
Omnia El Shakry specializes in the the intellectual history of the Arab world and Europe, with a special emphasis on the history of the human sciences in Egypt. Her current book project, The Arabic Freud: Psychoanalysis and Islam in Modern Egypt, traces the lineaments of psychoanalysis in postwar Egypt.
CANCELLED – Duana Fullwiley, Department of Anthropology, Stanford University
The Racial Embrace: DNA Sequences meet Dream Sequences in Struggles for (Scientific) Liberation
Dr. Duana Fullwiley is an anthropologist of science and medicine interested in how social identities, health outcomes, and molecular genetic findings increasingly intersect. She is the author of The Enculturated Gene: Sickle Cell Health Politics and Biological Difference in West Africa (Princeton, 2011), which examines how structural adjustment policies in Africa affected not only the lived experiences of sickle cell patients in Senegal, but also influenced the genetic science about them.
EVENT PHOTOS:

If you have trouble viewing above images, you may view this album directly on Flickr.