Building department culture by reviving and reimagining The Center for World History


Reviving and Reimagining The Center for World History has a two pronged approach to research. The cluster, led by Associate Professors of History Greg O'Malley, Maya Peterson, Marc Matera, and Ben Breen, seeks to strengthen department research culture by fostering faculty-graduate student dialog. This in turn helps to further a second aim: deepening intellectual explorations of global and transnational history at UC Santa Cruz and across the UC campuses.  
The cluster is one of six Humanities research clusters funded by The Humanities Institute at UC Santa Cruz. It was conceived of as a way to revive the Center for World History, a hub that supported teaching and research on world historical subjects and had developed community events in the UC Santa Cruz History department since the 2000s.
While many clusters utilize THI support to take a deep dive into a research concern or question, Reviving and Reimagining The Center for World History aims to develop both intradepartmental communication in the History department at UC Santa Cruz and to build networks between the History department, other departments on campus, and across the UC system.
The Center has worked to achieve this in part through a full schedule of interdisciplinary events, which includes internal and visiting speakers presenting on themes and fields related to global economics, colonialism, regional histories, and area studies. Topics and speakers range from depression-era economics in "The Global 1930s: The International Decade", by UC Santa Cruz's Marc Matera, to a recent talk on global refugees, "The Ottoman Refugee and Euro-American Colonial Terror: A Global Story", by Isa Blumi from Stockholm University.  
One of the cluster's key goals is to increase graduate student access to such speakers and events in order to equip them with communication and job market skills that will help them understand what to expect from a professional academic life. "I found that graduate students in the department weren't getting to fully exposed to academic life outside the classroom such as job talks and presentations of works in progress," states Greg O'Malley, a principle investigator for the cluster.
"One way we've addressed this is to create space for two graduate students to ask the first questions at the end of every research talk. We also send graduate students to lunch with each speaker." O'Malley has found that gestures such as these can greatly improve student participation in the Center's events.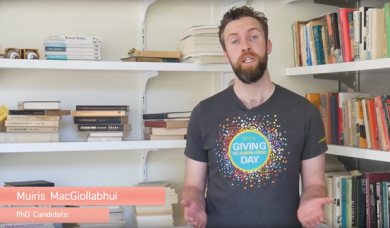 The cluster's goals are intellectual as well as organizational, seeking not only to increase participation but to develop interdisciplinary thinking and engage scholars interested in global and transnational histories across the UC campuses. Through scholarly conversations, conferences, and lectures, the cluster seeks to foster thought on issues that include global environmental history, oceanic regions, comparative gender history, and global indigenous histories.
Upcoming events include a talk by a UC Santa Cruz History department alumnus, Kevin McDonald, on March 13th. McDonald, who now teaches at Loyola Marymount University in Los Angeles, will investigate "Babbo and the Breadfruit: Plants, Oceans, and Empires in the Age of Enlightenment." "This is a great opportunity for History students to see and hear the work of someone who has graduated from their own program," states O'Malley. The event, like all Center for World History events, is free and open to the public.
The cluster has been running for three years, and in this time it has managed to grow in scope to include fifteen graduate students and eleven faculty participants, alongside four faculty principal investigators. On the heels of a successful Giving Day campaign, graduate students will be presenting the second-annual Center for World History graduate student conference on April 12, titled "Citizenship, Migration, and Exclusion in World History."
—
Join us for "Kevin McDonald: Babbo and the Breadfruit: Plants, Oceans, and Empires in the Age of Enlightenment" on March 13th, 4:00 – 5:30 pm, in Humanities 1, Room 210. Free and open to the public.